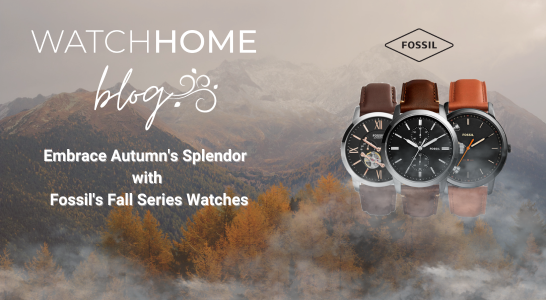 Fossil's Fall Series Watches
As fall comes with its golden leaves and the crisp scent of change in the air, a special enchantment fills the atmosphere. Fall is a season of transformation, a time to refresh your style and embrace the evolving landscape. And what better way to do so than with a captivating timepiece from Fossil's Fall Series Watches? In this blog, we'll talk about how Fossil's new collection captures the feeling of autumn by combining style and usefulness.
A Symphony of Fall Colors
Fall is a time when nature dons its most captivating attire, painting the world with a rich palette of colors. Fossil Women's Watch pay homage to this natural spectacle with remarkable finesse. Picture deep, earthy tones like rustic browns, warm chestnuts, and luscious burgundies gracefully adorning your wrist. These watches go beyond just telling time; they become wearable works of art, reflecting the beautiful colors of the season and adding an extra touch of warmth and elegance to your fall outfits.
Designs That Inspire
Fossil watches has long held the art of seamlessly blending vintage charm with contemporary aesthetics. The Fall Series Watches stand as a testament to this design philosophy. With their classic yet refreshingly modern designs, these timepieces are versatile enough to enhance both your everyday and formal attire. Whether you're enjoying lattes at a cozy café or attending a beautiful fall wedding, Fossil has carefully created a watch just for your special moments.
Functionality Meets Style
Fall is a season that invites constant exploration and movement. Whether you're strolling through a peaceful apple orchard, going on a scenic hike, or simply managing your daily activities, you need a watch that suits your active lifestyle. Fossil Watches deftly marry functionality with style. Many models have features like water resistance and durable materials, so your watch not only enhances your style but also handles the season's demands with ease.
The Perfect Fall Accessory
Fall fashion thrives on layering, and a Fossil watch is the ultimate accessory to harmonize your ensemble. Whether you're wearing cozy sweaters for warmth, stylish scarves for elegance, or classic trench coats for a timeless look, a carefully selected timepiece adds the perfect touch of sophistication. With a Fossil watch adorning your wrist, you're prepared to embrace all that fall offers with unmatched confidence and style.
A Gift of Time
With the holiday season on the horizon, Fossil Men's Watch make for thoughtful and timeless gifts. Whether you're treating yourself or delighting a loved one, a Fossil Mens Watch is a symbol of appreciation and a reminder to cherish the moments that truly count. It's a gift of time itself, an embodiment of your sentiments.
Explore the Fall Series Watches
Fossil Watches celebrate the beauty of fall and showcase the brand's strong dedication to quality and style. Each timepiece weaves a tale of craftsmanship, innovation, and elegance. Whether you like classic leather bands, sleek stainless steel, or a design that's uniquely extraordinary, Fossil has a watch that resonates with your personal style.
So, as you embrace the magic of this fall season, enhance your style and cherish the moments that make it extraordinary with a Fossil Watch. By combining autumn-inspired colors, timeless design, and practical features, it goes beyond being just a watch; it becomes a symbol of elegance and a tribute to the enchanting beauty of fall. Embark on your autumn adventures with confidence and flair by exploring the collection with Watch Home.