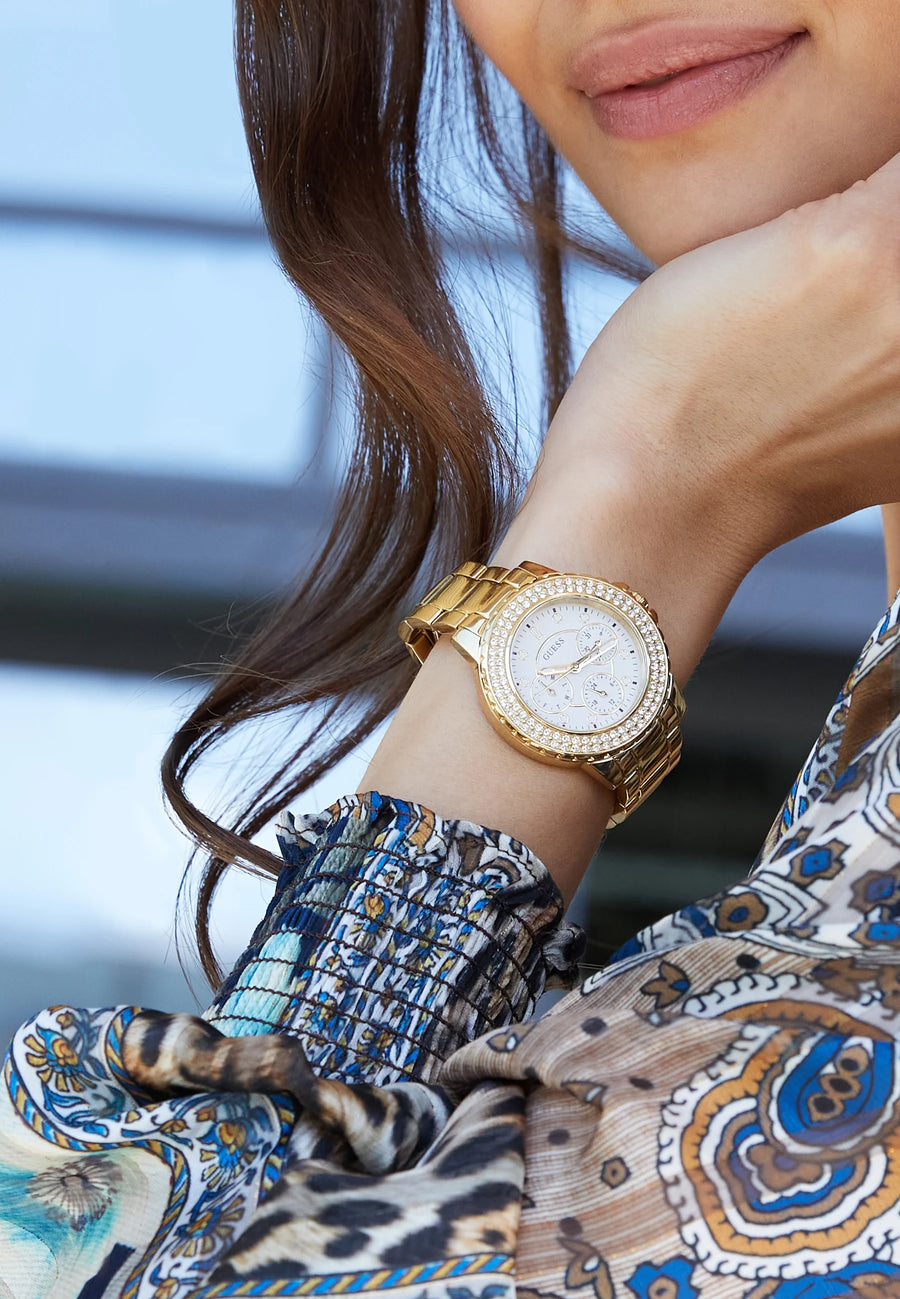 Take Your Fashion to the Next Level with Guess Watches; A Perfect Blend of Style and Functionality.
Watches have always been more than timekeeping devices; they serve as expressions of style, individuality and reflect ones unique taste.

In the realm of wristwatches Guess has successfully carved a niche for itself by blending fashion and practicality. With a history spanning back to 1981 Guess has consistently offered timepieces that captivate fashion enthusiasts and watch aficionados alike.

In this exploration of Guess Watches we will delve into the brands heritage explore its collections and discover why Guess endures as an emblem of timeless sophistication.
A Journey Through Time; The Legacy Behind Guess Watches
To truly grasp the essence of Guess watches it is essential to take a step in time to when the brand emerged. Founded by Paul and Maurice Marciano Guess made an entrance into the fashion scene with their line of denim jeans that redefined casual attire. Within a few years Guess denim became synonymous with allure, sensuality and adventurous style.
Expanding on this triumph Guess diversified its offerings to include accessories. In 1983 they introduced their line of watches—a moment that marked the commencement of an era for the brand—further solidifying its position as a force, in the world of fashion.
Iconic Collections; Timepieces That Tell a Story
Guess watches go beyond telling time; they make a statement. Each collection is thoughtfully curated to cater to a range of tastes and preferences ensuring that there is a Guess watch, for everyone. Lets delve into some of the Guess watch collections that have made a lasting impact on the world of fashion.
 Guess Originals
The Guess Originals collection pays tribute to the brands roots and American heritage. These watches showcase designs, denim straps and distinctive branding. They serve as a testament to Guesss dedication to staying true to its identity while embracing change over time.
 Guess Connect
In an era where technology and fashion Guess Connect watches seamlessly bridge the gap. These smartwatches offer state of the art features such as call and message notifications, fitness tracking capabilities and voice command compatibility – all enveloped in Guesss signature style.
 Guess Dress Watches
For those occasions when you desire a touch guess dress watches are an impeccable choice. With their designs, details and shimmering accents they serve as perfect companions, for formal events and sophisticated gatherings.
 Guess Sport Watches
These watches are designed to cater to lifestyles ensuring they can withstand the demands of sports and outdoor activities. These timepieces are built tough, durable and equipped with features such, as water resistance and chronograph functionality. They make companions, for those who lead a lifestyle.
 Guess Fashion Watches
With fashion perfectly embody the brands reputation for glamour and sophistication. These watches harmoniously combine elements such as crystals, mother of pearl dials and captivating color palettes. They cater to individuals who aspire to make a fashion statement.
 Guess Iconic
The Iconic collection by Guess lives up to its name by featuring watches that have become representations of the brands style. Many of these watches proudly display the Guess logo making an unmistakable statement about the wearers fashion sensibilities.
What sets Guess Watches apart?
While Guess offers a range of collections to choose from there are characteristics that remain consistent throughout their entire selection of timepieces.
 Trendsetting Design
Guess watches are widely acclaimed for their ability to set trends in the world of fashion. Whether its through colors eye catching patterns or innovative materials Guess continuously pushes boundaries to ensure wearers stand out effortlessly in any gathering.
 Exquisite Craftsmanship
Behind every Guess watch lies a dedication to craftsmanship. From movements within each timepiece, to material selection no effort is spared in guaranteeing that each watch meets the highest standards of quality.
 Versatility
Guess recognizes that their watches are worn by people, with lifestyles. Whether you're going to a meeting, a get together or an elegant event there's a Guess watch that perfectly matches your outfit and fits the occasion.
 Affordability
Despite their appeal Guess watches are priced within reach of a range of consumers. This affordability enables people to experience the sophistication and style associated with the brand.
 Timeless Allure
Guess watches possess an ability to transcend trends and remain relevant year, after year. Many Guess timepieces exude a charm that ensures they never go out of fashion.
Conclusion; Embrace Timeless Sophistication with Guess Watches
In a world where fashion and practicality are often considered domains Guess watches effortlessly blend these two realms. With a heritage diverse collections and unwavering commitment to quality Guess has solidified its position, as a brand that offers not watches but timepieces that weave stories and leave lasting impressions. When you select a Guess watch you're not simply choosing a timekeeping device; you're opting for style embracing your individuality and expressing your timeless elegance.